Strategic Planning
• Is your organization fighting the same battles over and over?
• Are you re-litigating decisions you thought you had already made?
• Are you unsure if you are making any progress— or even uncertain what progress might be?
• Are there competing views about what you are really trying to accomplish?
If this sounds familiar, it might be time for your organization to bring clarity and focus to what it is you are trying to accomplish— call Joel Bradshaw Associates and initiate a strategic planning process.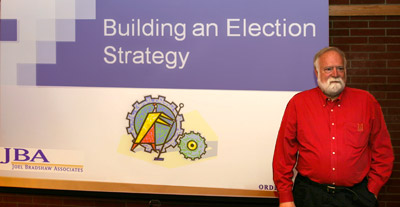 Joel Bradshaw has been doing strategic planning for political campaigns and organizations for over 20 years. He has developed an innovative process that emphasizes the co-creation of the organization's mission, strategic direction, goals, and objectives by the entire team in order to achieve true group consensus and cohesion.


JBA's satisfied strategic planning clients include:
Senator Barbara Boxer (D-CA)
Equality North Carolina
The Illinois Education Association
The California League of Conservation Voters
The Ocean Conservancy
and many more. See client list...