Political Campaigns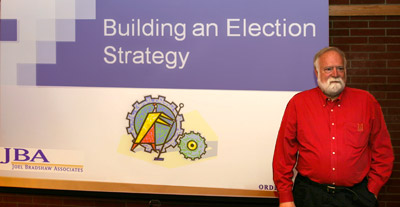 • Are you running for office for the first time and having trouble getting started?
• Does it feel like your campaign is suddenly foundering?
• Are the candidate and the staff overwhelmed?
• Is there a failure to execute on time and on budget?
• Is there a failure to communicate?
• Are you having a hard time figuring out which things to react to, what to focus on, and what to ignore?
Joel Bradshaw Associates can help.
Joel Bradshaw has over 35 years of experience in successfully advising political campaigns at all levels of the ballot. He knows that the keys to victory lie in:
Finding a winning strategy and sticking to it


Developing a compelling message and sticking to it


Raising sufficient money to execute the campaign you plan


Executing each of the components on time and on budget
From small town mayoral races to congressional contests to the presidential level, Bradshaw has helped hundreds of candidates design and run strategically-focused, disciplined, and successful campaigns.
As a general consultant, he begins by leading an extensive planning process, culminating in a comprehensive written document, which serves as the blueprint for victory, and he then oversees all aspects of its implementation. He is responsible for keeping the candidate, the other consultants, the manager, and the staff clearly focused on the winning strategy and message throughout the effort, keeping them proactive rather than reactive in the chaotic environment of electoral politics. He works to ensure that every aspect of the campaign - from fundraising to field to media - is on target, on time and on budget.
Bradshaw's most valuable contribution to political campaigns, however, is his keen understanding of group dynamics and its impact on implementation and management. These skills have helped dozens of successful candidates win tough victories in difficult circumstances, most notably Senator Barbara Boxer (D-CA) in her first uphill battle for the U.S. Senate. For a complete list of Joel Bradshaw's clients, click here.
In addition to working for individual candidates, Joel Bradshaw also has extensive experience working for legislative caucuses to help them secure or maintain their Democratic majorities. Starting back in 1986, Bradshaw, along with his partner at the Campaign Design Group, Elizabeth Sullivan, broke new ground in this area. Over the years, they worked with the legislative leadership in New Jersey, Florida, New York, Pennsylvania, and Washington to elevate the level of their campaigns by assembling teams of consultants to work with multiple candidates. These efforts, now in wide use by both political parties, increased the sophistication, focus, discipline, and effectiveness of these campaigns.
A widely recognized expert trainer in all aspects of campaign strategy, design, and message, Joel has trained and continues to train hundreds of campaign operatives throughout the country. More about training...